I usually plan menus in reverse. I start with what I want to make for dessert and then worry about the rest of the meal later. Since I was working around a Southern Barbecue theme for Bryan's birthday, I knew I wanted a layer cake. I ended up making John Besh's Père Roux's Cake which was really good, but a little too sweet for me. It is a white layer cake filled with layers of a banana-rum-caramel and topped with cream cheese frosting, I have some ideas for adjustments on the cake and will likely share my version in the future. For those of you interested in giving it a try, the recipe is available here. If you have his beautiful cookbook, My New Orleans, note that there is a major error in the printed recipe. It calls for 3 tablespoons of baking powder! A version in Food & Wine calls for 1 tablespoon so I went with that. In addition to the cake, this was the perfect time for a pecan pie.
This recipe from Tartine is made with maple syrup (in honor of Bryan's Canadian heritage) and the sweetness of the sugar custard is tempered by a healthy dose of bourbon and some thinly sliced kumquats. The resulting pie is a really wonderful riff on the classic. Not overly sweet or simple and perfect served warm with buttermilk ice cream.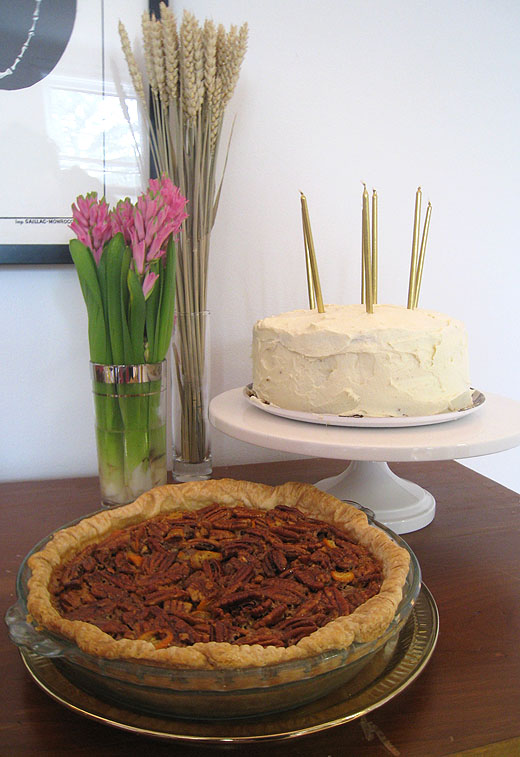 One note on the Tartine cookbook, I am surprised to find that this is only the second recipe I have written about from that book. If you are into pastry and baking, the Tartine book is definitely a must have and one of my all-time favorite cookbooks. These recipes are the real deal.
Pecan Maple Pie with Kumquats and Bourbon (adapted from Tartine by Elisabeth Prueitt and Chad Robertson)
Fully baked and cooled 1-inch pie shell (see recipe below)
3/4 cup (150g) Granulated sugar
1/2 cup (155g) Maple Syrup
1/2 cup (165g) Light corn syrup
2 tablespoons bourbon
1/2 teaspoon kosher salt
1/4 cup (55g) unsalted butter
1 teaspoon vanilla extract
3 large eggs, lightly beaten
2 cups (285g) pecan halves
1/3 cup (85g) kumquats, thinly sliced
Have the pie shell ready for filling.
In a saucepan, combine the sugar, maple syrup, corn syrup, bourbon and salt. Place over medium heat, bring to a rolling boil, and boil for 1 minute. Take the pan off of the heat, add the butter, and whisk as it melts. Let the mixture cool to room temperature. While the mixture is cooling, preheat the oven to 350° F.
Add the vanilla ad the eggs to the cooled mixture and stir to mix well. Stir in the pecans and kumquats. Pour into the pie shell.
Bake the pie until the filling is just set, 40 to 60 minutes. If the top is browning too quickly, cover with a piece of aluminum foil. Let cool on a wire rack. Serve warm or at room temperature, ideally with a scoop of buttermilk ice cream. The pie will keep in the refrigerator for up to 1 week.  (ha!)
Flaky Tart Dough
1 teaspoon salt
2/3 cup (150ml) water, very cold
3 cups plus 2 tablespoons (455g) all-purpose flour
1 cup + 5 tablespoons (300g) unsalted butter, very cold
In a small bowl, add the salt to the water and stir to dissolve. Keep very cold until ready to use. Put the flour in the bowl of a food processor. Cut the butter into 1-inch pieces and scatter the pieces over the flour. Pulse briefly until the mixture forms large crumbs and some of the butter is still in pieces the size of peas. Add the water-and-salt mixture and pulse for several seconds until the dough begins to come together into a ball but is not completely smooth. You should still be able to see some butter chunks.
On a lightly floured surface, divide the dough into 2 equal sized balls and shape each ball into a disk. 1-inch thick. Wrap well in plastic and chill for at least 2 hours or overnight.
On a lightly floured surface, roll one disk of dough into a circle about 1/8-inch thick. Cut out a 12-inch circle and place in 10-inch pie dish. Trim the dough so there is an even 1/2-inch  overhang, fold the overhang under, and flute or crimp the edge. Chill the shell until firm to the touch, 30-45 minutes.
Preheat the oven to 375°F.
Line the pie shell with parchment and fill with pie weights. Bake the shell until the surface looks light brown, about 25 minutes; to check, lift a corner of the paper. Remove from the oven and remove the weights and paper. Return the shells to the oven and bake until golden brown, about 5-10 minutes longer.
Let the shell cool completely before filling.