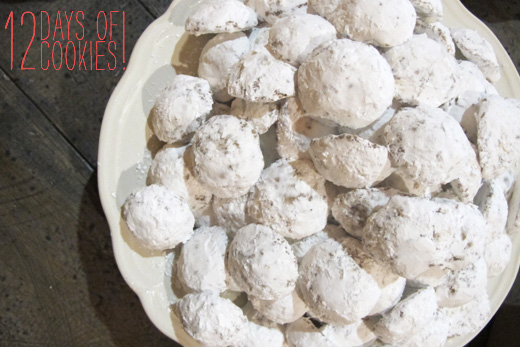 Once again, I am pleased to bring you 12 Days of Cookies!! Over the next 12 days I (along with some very special guests) will be bringing you a collection of cookie recipes to share with your friends, family or self. I am super excited to be tackling this project, even if it means putting myself at risk for Cookie Exhaustion.
The cookie celebration unofficially kicked off yesterday at Dose Market, where my friend Sandra and I sold some delicious cookies to market-goers. Dose is a monthly market that brings together local food and fashion vendors to pedal their wares in a beautiful, light-filled space in downtown Chicago. I'm a huge fan of the market and was thrilled to participate this time. It was a bit of a preview of the fun that is about to come your way.
Sandra and I curated a collection of 7 cookies that were specially made for Dose-goers by the amazing bakers at Floriole. Sandra, Bryan, and I staffed the table (along with our friends Katie and Justin) and enjoyed a cookie or two between customers. It was a great event and I really enjoyed getting to meet some of you in person. I also enjoyed food from great Chicago food makers (fried chicken from Sunday Dinner, tamales from Las Manas, dumplings from Bill Kim and his crew, iced tea from Rare Tea Cellar, preserves from Rare Bird and Mess Hall and savory pies from Hoosier Mama—it was a Chicago all-star line up ).
I am going to share a couple of recipes from Dose over the next 12 days, starting with today's Maple Pecan Cookies. This is one of Sandra's recipes and a beautiful spin on the classic Mexican wedding cookie (or as some of us call them, balls). It is packed full of pecans and sweetened with maple syrup; a little orange zest pushes it over the top. It couldn't be easier to make. We handed out recipe cards to everyone at Dose, but I wanted to hand one to you, too. Please accept this electronic version. I am looking forward to the next couple of weeks! Happy baking, my little cookie monsters.