Thanks for a great week, everyone. I've had fun celebrating the past two years of Lottie + Doof and am looking forward to the year to come. Thanks to Bryan and Dorie Greenspan for their contributions to the week, and thanks to all of you for the great comments and kind emails I have received. You are the best! Before we wrap up the celebrations and start dealing with the piles of apples that are invading the farmers markets, I have one more special treat. This week would not be complete without a contribution from my favorite Chicago bakery, Floriole.
I like being a regular. I've always valued my relationships with the businesses and places I frequent. Living in an urban area, I think it is important to carve out your own little community. When Floriole opened just a couple of blocks from my office, it meant that I could be a very regular regular at my favorite bakery in Chicago. Having spent a lot of time there over the past few months, I continue to be impressed not only with the amazing food coming out of the kitchen, but also with all of the wonderful people who work there: from the folks behind the counter who are always so helpful and friendly to the super cool crew of ladies in the kitchen who always seem to be having a good time baking. Floriole, I salute you—and I'm really proud to be one of your regulars.
I am also happy to call Sandra Holl (the chef/owner) a friend. When I asked if she was willing to share a recipe with all of us, she immediately agreed in her usual, generous way. What better way to celebrate two years of Lottie + Doof than to allow all of you who don't live in Chicago a taste of what I like to eat here. This olive oil cake, which I have ordered more often than I care to admit, is one of the most perfect examples of this type of cake I have ever eaten.
It is perfectly moist and rich and has a really satisfying crumb. It somehow manages to be both hearty and elegant at the same time. You can throw in a handful of fruit, depending on the season, raspberries are great and peaches would be lovely. I know you'll all get even more creative. Enjoy this, and thanks to Sandra for the contribution.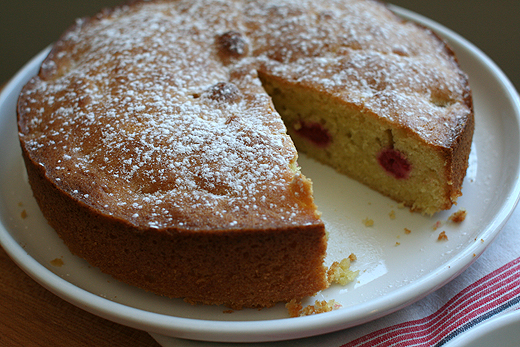 UPDATE: I originally made the cake using the paddle attachment, my mistake. Use whisk! Much easier! Sorry!
Lemon Olive Oil Cake (recipe courtesy of Sandra Holl/Floriole)
200 grams granulated sugar
zest of 2 lemons
100 grams melted butter
200 grams olive oil
1 tablespoon lemon juice
250 grams all-purpose flour
1 1/2 teaspoons baking powder
1/2 teaspoon salt
4 large eggs
about 1-1 1/2 cups fruit (raspberries, blackberries, blueberries, peaches- whatever is in season!)
Pre-heat oven to 350° F. Butter and line the bottom of a 9″ cake pan with parchment paper.
Combine lemon zest and sugar in a bowl, rub zest into the sugar to release essential oils—set aside. Combine melted butter, olive oil and lemon juice in a medium bowl. Sift together flour and baking powder.
In the bowl of a stand mixer fitted with the whisk attachment, combine eggs, sugar mixture and salt. Beat at high speed until very pale yellow in color and has about doubled in volume. You are looking for the batter to hold a "ribbon". With mixer still running slowly add oil mixture to egg mixture. Sandra calls this the mayonnaise method – you are slowly emulsifying the oil into the egg mixture. If you do this properly the mixture will not break.
Remove the bowl from the stand mixture and fold in the dry ingredients, being careful not to over mix.
Pour about 2/3 of batter into bottom of the prepared cake pan. Sprinkle whatever fruit you are using on top. Cover with remaining batter and bake for approx. 35-40 minutes or until the cake is set. You can use a toothpick to test, it should come out clean. I like a sprinkle of confectioner's sugar on top.