We're all trying to figure out how to write about food after what has happened in Japan. Ruth Reichl's tweets are getting more and more bizarre. We're struggling. There isn't an answer. We are unbelievably fortunate to be alive, and to have our homes, friends and family safe. Even this internet that brings me to you is such a privilege. My hope is that we are all appreciating our good fortune, and finding ways to help those that are suffering. And I hope that someday everyone will have the luxury of caring about the food they eat (or whatever else) as much as we do.
In the meantime, we will continue on as best we can. Awkwardly. And in that spirit,  I present to you an ice cold glass of milk punch.  The season for this milk punch is almost behind us. I like it best in the fall and winter, but early spring works too. It is almost eggnog—no egg, plenty of nog. Some people serve their punch on ice, but I like the Canal House suggestion of freezing it for a few hours to turn it a little slushy. It is so incredibly delicious and will make you wonderfully tipsy and happy.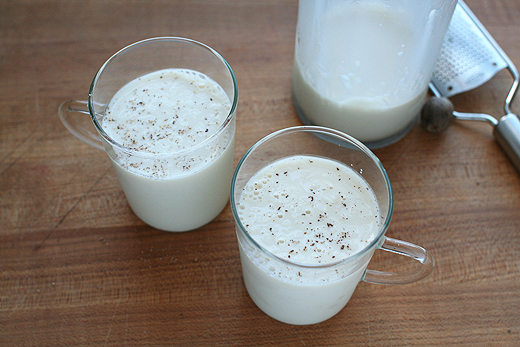 Use the best milk you can possibly find, it will make all the difference. And as always, use bourbon that you like to drink. Remember, alcohol doesn't suddenly taste better when you mix it with something else. I love this with a good Kentucky bourbon, but whiskey or brandy will work too. We've been using Eagle Rare Single Barrel 10 Year (look at all of those medals!)
Milk Punch (recipe from The Canal House)
1 quart whole milk
1 cup half-and-half
1½ cups bourbon (or whiskey, or brandy)
1 cup powdered sugar, sifted
1 tablespoon pure vanilla extract
Ground nutmeg (for garnish)
Put the milk, half-and-half, booze, sugar, and vanilla extract into a pitcher and stir well. Put the pitcher into the freezer and chill the milk punch until it is quite slushy, 3–4 hours. Stir well and serve in pretty chilled glasses, garnished with a dash of nutmeg.