This one is for Carollina, who asked what we brought back from the trip and wisely encouraged us to bring an extra bag.
Merci for Merci, one of my favorite places in Paris. These small enamel bowls are so rad.
Christine Ferber preserves for Pierre Hermé. The lady knows how to preserve fruit. I am always amazed when jars of jam survive air travel.
I have a plate problem. I just can't stop myself from buying them. I justify it by saying I could photograph something on it. This plate from Liberty is especially charming because the pattern is the UK!
Seriously good spice bread from Poilâne. The label says it has Szechuan peppers in it, which add a nice heat. I will try to recreate it.
I finally splurged on copper canelé molds.  Just look at how beautiful they are! I bought them from one of the charmingly grumpy men at E.Dehrillen who seemed somewhat impressed by my interest. They don't look like this anymore because I have seasoned them, but they are still beautiful. I can't wait to start using them.
My riskiest import, Bordier butter. Worth the risk, as it seemed to survive the trip unscathed. All of the other butters are sad they are not Bordier butter (so am I).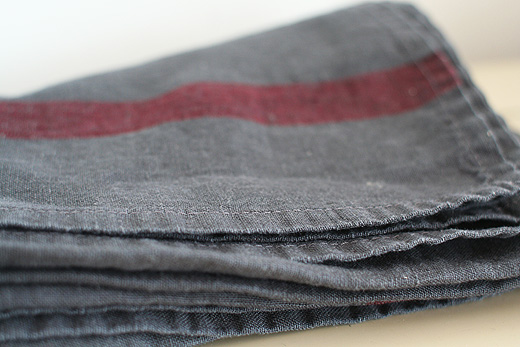 Another beautiful thing from Merci, this time new napkins. I wish they sold their linens online.
See, I told you. This beauty is from Astier de Villatte. I love this pattern, but why do they have to be the most expensive plates in the world?!
Prunes stuffed with prunes from G. Detou. If you love prunes, these are for you. Really, really delicious stuff.