Ashley English is one of a new classification of friends that entered my life a few years: Internet Friends. People who I know through their blogs and correspondence but have not yet met in person. Often these relationships become real-life friendships, but it hasn't happened yet with Ashley, we live in different parts of the country. Someday!
What you all should know about Ashley is that she's awesome. I love following her life and creative output on her blog, and I love reading her books to learn how to do more things myself.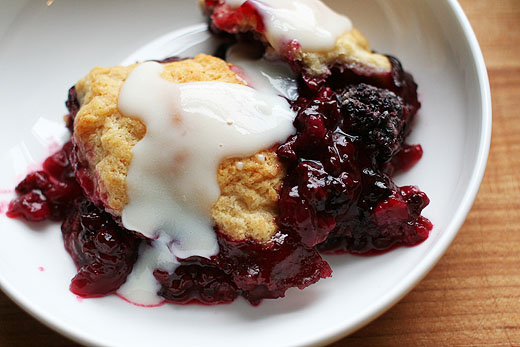 Her newest book, A Year of Pies: A Seasonal Tour of Home Baked Pies, is now available, but I've been lucky enough to have a preview copy for a couple of weeks. I can say that is a real beaut filled with a delicious recipes that I am looking forward to trying as the seasons progress. In addition to all of her own great recipes, Ashley included recipes from fellow writers and cooks (including me), making it a very special and diverse collection.
The first recipe to catch my eye was this Blackberry Sonker with Dip. I was only familiar with two of the four words in that recipe title. Turns out a sonker is like a cobbler, with a goofier name. And dip is a custard sauce made with milk and cornstarch that Bryan ate by the spoonful even after the sonker was gone. The recipe is delicious and works perfectly, so the book is off to a great start. When I went to make this, my blackberries had developed some mold (the curse of berries!)so I was only able to salvage enough to make a mini-sonker, which is what you see pictured here. While this was perfect warm from the oven, I also loved it for breakfast the next morning.
Thanks to Ashley for including me in her book, and for continuing to be so inspiring.
Blackberry Sonker with "Dip" (from A Year of Pies by Ashley English)
Filling:
4 1/2 half-pints blackberries
1 cup granulated sugar
1/4 cup arrowroot powder or cornstarch
2 tablespoons all-purpose flour
1 teaspoon ground cinnamon
Topping:
1 cup all-purpose flour
1 teaspoon baking powder
1/4 teaspoon baking soda
1/4 teaspoon salt
3 tablespoons unsalted butter, cubed
3/4 cup buttermilk
3 tablespoons unsalted butter, melted
Dip:
2 cups whole milk
1/2 cup granulated sugar
1 tablespoon arrowroot powder or cornstarch
1 teaspoon vanilla extract
Preheat the oven to 425°F. Butter a 10-inch skillet or a 9-inch pie pan and set aside.
Prepare the filling:
Combine all the ingredients for the filling in a medium-size bowl. Stir until the dry ingredients are thoroughly mixed and the berries are well-coated. Cover bowl with a kitchen cloth and set aside for 15 minutes.
Prepare the biscuit topping:
Combine the flour, baking powder, baking soda, and salt in a medium-sized bowl.
Using a pastry blender or fork, cut in the butter cubes until the mixture is crumbly and the size of peas or smaller.
Create a well in the center of the mixture. Pour in the buttermilk, and using a large spoon, gently incorporate just until all of the dry ingredients are moistened. The mixture will look quite wet at this point, but that's fine.
Prepare the dip:
Heat the milk in a medium-seized saucepan over medium heat. Bring to a gentle boil.
Whisk the sugar and starch in a small bowl to mix well, then add to the milk along with the vanilla extract, stirring until thoroughly blended and smooth.
Reduce the heat under the saucepan to a gentle simmer and cook, uncovered, 15 to 20 minutes until the mixture is reduced by half.
Remove from the heat and transfer to a pourable container. Cover and set aside while the sonker bakes.
Assemble the sonker:
Place the blackberry mixture in the prepared skillet.
Using a large spoon,dollop the surface of the blackberries with the biscuit topping, aiming for mounds of about 3 tablespoons of batter. You needn't be terribly specific on the biscuit amounts; as long as the surface is dotted with reasonably similar biscuit mounds, you're in good shape.
Pour the melted butter over the biscuit topping and bake for 15 minutes. Reduce the oven temperature to 350°F and continue baking an additional 30 minutes.
Cool at least 30 minutes, then, just before serving, drizzle each portion with several tablespoons of dip.