You hate to say things like this too soon, but it has been a remarkably easy winter in Chicago. I have done a minimal amount of complaining about the weather, which has been pretty mild. In fact, I have been thoroughly enjoying this winter and the food that goes along with it, I'm not even tired of citrus fruits yet. For the first time in a while, I am okay with winter sticking around a bit longer. I still have a bunch of cold-weather recipes I want to tackle, and I have been enjoying the excuse to embrace my homebodiness.
Oranges and their kin are popular in our house—usually eaten out of hand, or juiced, but occasionally they make their way into a recipe. Of all the citrus, oranges get the least amount of attention from bakers. I often wonder why, they are definitely my favorite. I jump at recipes that feature oranges in all their bright citrus glory, like this relatively simple tea cake. It ain't joking, with the zest of three oranges it packs a real flavor punch. I added some Cointreau because I could, but it isn't necessary.
Bake this cake and celebrate the remaining weeks of winter, good or bad. Soon it will be spring and we'll be taking another season for granted!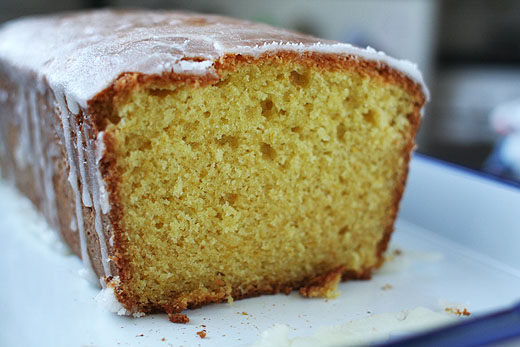 This is another recipe from the wonderful Piece of Cake by David Muniz and David Lesniak which is quickly becoming one of my favorite baking books. The recipe calls for a 9×5 inch loaf pan. If you only have smaller, fill your pan just shy of 3/4 full and bake the remaining batter in a mini loaf pan or other small tin. The smaller tin will bake more quickly, so pay attention! Also, because you are using both the juice and zest of oranges, it makes sense to zest first and then squeeze oranges.
Orange Loaf (adapted slightly from Piece of Cake by David Muniz and David Lesniak)
2 1/4 cups all-purpose flour
2 1/4 teaspoons baking powder
3/4 teaspoon baking soda
1 teaspoon kosher salt
3/4 cup sour cream
1 tablespoon cointreau (optional)
1 1/2 teaspoons vanilla extract
1/4 cup fresh orange juice
1 cup granulated sugar
3 tablespoons orange zest (from about 3 oranges)
3/4 cup (6 ounces) unsalted butter, softened
3 large eggs
For glaze:
1 1/2 cup confectioners' sugar
2 tablespoons fresh orange juice
Preheat the oven to 350°F. Butter a 9-by-5-inch loaf pan, line the 2 long sides and bottom with one piece of parchment, and dust with flour.
Whisk together the flour, baking powder, baking soda, and salt in a medium bowl. Combine the sour cream, vanilla, Cointreau (if using), and orange juice in a large measuring cup. Set both aside.
In the bowl of an electric mixer fit with the paddle attachment, combine the sugar and orange zest on low speed until fragrant. Drop in the butter 2 tablespoons at a time until it is all added. Increase the speed to medium-high and cream the mixture until it is light and fluffy, about 5 minutes. On low speed, add the eggs, one at a time, beating well after each addition. Scrape the sides and bottom of bowl as you go. Alternately add the flour and sour cream mixtures, beginning and ending with the flour, and mixing only until just combined. Scrape the batter into the prepared pan and smooth the top with a spatula.
Bake the loaf for 45 to 60 minutes, or until a cake tester emerges clean. Let the cake cool for about 10 minutes before releasing it from the pan. To prepare the glaze, combine the confectioners' sugar and orange juice in a small pan and bring to a boil, stirring once or twice. Simmer for 2 minutes, then remove from the heat and brush/pour over the warm cake. Let the cake cool completely before serving. Use a serrated knife to slice cake, as the glaze will be hard.