I made this cake last summer, but somehow never got around to writing about it even though it was perfection. Who knows what happened—something distracted me or the moment passed. It is a Nigel Slater recipe (if the title didn't give it away), and it needs to be made every summer from now until the end of time. I am resurrecting it here with the hope that you all have some raspberries and apricots at your market and can throw this together over the weekend. I sure will.
Sometimes it is nice to talk about something other than food. Which I do a lot of in my real life, but not as much of in my internet life. I was honored and pleased when Rebecca Hernandez from The Women Take Over asked me to answer some questions about feminism and equality, two things I care deeply about. Rebecca is one of the folks behind that fantastic You Don't Own Me PSA during the last election. The Women Take Over is a great website that profiles feminists and feminist issues, with the goal of inspiring young people. I love it. I hope you will take the time to check out Rebecca's site and follow along. Yes to feminism! Check out my interview HERE!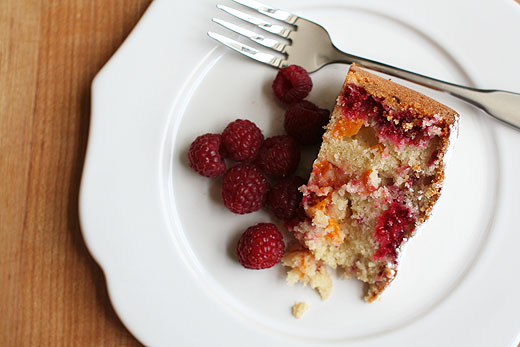 The cake is best the day it is made. Ideally you'll make it in the afternoon to serve for dinner. I replace the golden baker's sugar in British recipes with either granulated sugar or some of that less refined hippie sugar (usually labeled "organic") you can get at Whole Foods. I always end up googling around for a way to make self-rising flour at home, because I never have it in my pantry.
A cake for midsummer (from Ripe by Nigel Slater which you absolutely must own—find a way)
3/4 cup (175g) butter
1 cup minus 2 tablespoons (175g) golden baker's sugar
7 ounces (200g) ripe apricots, 4 or 5
2 eggs
1 1/3 cup (175g) self-rising flour
1 scant cup (100g) ground almonds
2 tablespoons milk
1 1/2 cups (170g) raspberries
Line the bottom of an 8-inch (20cm) springform cake pan with parchment paper. Preheat the oven to 350°F (180°C).
Cream the butter and sugar together in a stand mixer until pale and fluffy. Halve, pit, and coarsely chop the apricots. Beat the eggs lightly, then add to the creamed butter and sugar a little at a time, pushing the mixture down the sides of thge bowl occasionally with a rubber spatula. If there is any sign of curdling, stir in a tablespoon of the flour.
Mix the flour and almonds together and fold in, with the mixer on a low speed, in two or three seperate batches. Add the milk, and once it is incorporated, add the chopped apricots and the raspberries.
Scrape the mixture into the cake pan and bake for an hour and ten minutes. test with a skewer; if it comes out relatively clean, then the cake is done. Leave the cake to cool for ten minutes or so in the pan, then run a thin spatula around the edge and slide it out onto a plate, decorating as the fancy takes you. (<—-I LOVE NIGEL SLATER!)