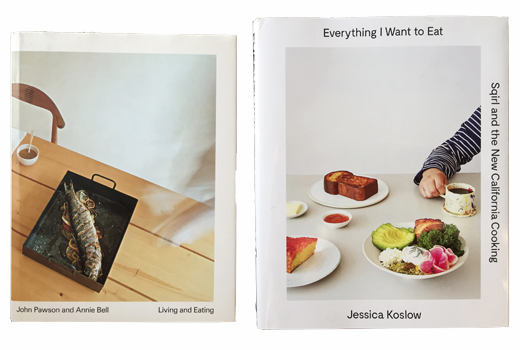 I was both eager for, and dreading, the Sqirl cookbook (which is actually called: Everything I Want to Eat, Sqirl and the New California Cooking). The popular Los Angeles restaurant has become so beloved by both food-types and celebrity-types that it has become easy to hate. Until you eat there and kind of get it and kind of love it and wonder what it means about you. And Dave Franco is sitting next to you which is confusing and wonderful. I love Sqirl but never really wanted to discuss it with anyone; it is embarrassing, like trying to start a conversation about how great Beyoncé is—so obvious and overdone. (What can I say, I am a Gen-Xer, we were raised to dislike popular things). I had a lot of the same apprehension about the book.
But I guess what I am learning about Jessica Koslow, the chef and owner of Sqirl, is that she is good at stuff. She manages to capture everything I love and am a little frightened of about Sqirl in the cookbook (including Dave Franco). Even from the outside, you know that something different is happening here. The book jacket clearly references one of the most beautiful cookbooks ever published, Living and Eating by John Pawson and Annie Bell. Pawson is a minimalist architect who has a weird relationship with food and aesthetics (he doesn't cook and maybe only wants to eat white things) but somehow food writer Annie Bell turns this into an amazingly weird and wonderful lifestyle book. We should talk more about that book another time, but I bring it up because if you're going to reference another book—that is the one to reference. Living and Eating is what I always use as an example when I get into one of my "why can't cookbooks be weirder and more beautiful" whining fits. Koslow answers my complaints before I even open the book.
But what's on the inside matters most, probably. And inside you'll find all of the recipes you love and think you want to make from Sqirl. To be honest, most of them are not things I will ever make myself, they just don't seem worth the effort (Time. Consuming.) when I can just go enjoy them at Sqirl on my next trip to LA. But some of them I will make, and I look forward to attempting some of her techniques (burning brioche, frying grains, dehydrating pickled beets). But for once I don't care as much about the recipes (don't worry—I still care), because everything else is so spectacular. Koslow smartly used three photographers for the book (Claire Cottrell, Jamie Beechum, Nacho Alegre), and the photos are stunning. There are kind of good-silly portraits of celebrities (Busy Phillips eating porridge!) a wonderful homage to the Richard Olney's The Good Cook series for Time-Life books in the jam making chapter, and the dessert chapter features portraits of deconstructed food sculptures. It all demonstrates that Koslow knows her shit. She is a mastermind. She knows about cookbooks, she knows why people like Sqirl, I think she even knows why people might be exhausted by Sqirl. And maybe most importantly, she knows how to choose the right people to work with (including food writer Maria Zizka, who rocks). By the time I was done reading the book I was ready to profess my love of Koslow publicly. So, here I am. Loud and proud.
Also, isn't Beyoncé great?
***
Sqirl's pastry chef, Meadow Ramsey, whose recipes fill up an entire section of the book, is wonderful. Her dessert recipes seem much more likely to be cooked than much of the savory stuff (but who knows…I'm just getting started). With Halloween on the horizon, I decided to make the spooky carrot and black sesame cake. It is a vegan quickbread, though the fact that it is vegan is barely mentioned, another bit of genius from Koslow. Los Angeles is the land of dietary restrictions, and so obviously they are taken into account when developing menus. Koslow addresses this fact in the introduction to the book. But as long as things taste good, the details don't seem important to the average eater/reader. So why turn them off of a vegan cake when you can just play it cool? Easy, breezy, beautiful—Sqirl Girl. (too much?)
The cake is great, the generous sesame top coat adds a savory edge that makes this perfect for Monday's breakfast or pre-trick-or-treating sustenance. It is best the day it is made, though it will keep for a few days wrapped well at room temperature.
Carrot-Ginger Black Sesame Loaf (from Everything I Want to Eat by Jessica Koslow)
1/2 cup (120ml) vegetable oil, plus more for the pan
2 cups (250g) all-purpose flour, plus more for pan
1 1/2 teaspoons baking powder
2 teaspoons ground cinnamon
2/3 cup (135g) granulated sugar
2/3 cup (145g) packed brown sugar
1/2 cup (120ml) unsweetened applesauce
1/3 cup (80ml) almond milk
2-inch (5cm) piece of ginger, peeled and finely grated
1 teaspoon vanilla extract
3/4 teaspoon fine sea salt
2 large carrots (7oz/200g total), coarsely grated
2 to 3 tablespoons black sesame seeds
Preheat the oven to 350°F (175°C). Brush the inside surfaces of an 8 1/2 by 4 1/2-inch loaf pan with a little oil. Dust with flour, tapping out any excess.
In a small bowl, combine the flour, baking powder, and cinnamon.
In a large bowl, whisk together the granulated sugar, brown sugar, applesauce, almond milk, ginger, vanilla, and salt. Using a rubber spatula, fold in the flour mixture, followed by the carrots, and finally the oil.
Scrape the batter into the prepared pan and sprinkle the top with the sesame seeds. You want it to be completely covered in seeds. Bake until the loaf has puffed and a toothpick inserted into the center comes out clean, about 1 hour 10 minutes.
Let cool completely in the pan before slicing.
Store, tightly wrapped, at room temperature.