Debbie Carlos has long been one of my favorite Midwestern artists and then she goes and blows my mind with this gorgeous Pond Vase. I wasn't alone in my adoration of this broody little vessel, and they are often sold out. But follow her for shop updates to snag one from the next batch.
Martha Mae was, for years, the coolest shop in Chicago. While the retail space may have closed during the pandemic, the dream lives on. The most beautifully chosen office and art supplies and other wonders are all curated by the super rad Jean Cate. I am in love with this glass dip pen that writes beautifully and is a sight to behold. If Wonder Woman had a pen…
This coriander is bonkers! I didn't really understand coriander until trying this stuff. Like everything Diaspora sells, it is really special.
This sweatshirt is clever and the perfect weight—not too heavy, not too thin—for wanting to wear every day. Book/Shop, who made this and other things I love, is a real delight of shop.
Like many people, the number of houseplants we own has increased over this weird year. I have found myself really frustrated by how difficult it is to find pots I like and that aren't very expensive. They're all, somehow, wrong—too modern, too rustic, too faux-French. I do love this terracotta weirdo from EQ3 (which is Canada's answer to CB2—I guess? Ugh.). The huge flat rim is a nice frame for whatever plant you want to showcase.
Carrier Company in Norfolk is my favorite place to buy clothes, and I've bought a lot from them over the years. It feels good spending money on clothes that will last, and that are made in a community-minded and sustainable way. This year they made this beautiful Celtic Wool Jacket that is admittedly, a lot of look. But a nice burst of color on a grey autumn day. I love Carrier. 
Perfumer H is where I splurge for myself on things that smell really good. After spending a lot of time in their shop last year when we visited London, I have become a devoted follower and fan of Lyn Harris and her vision. She's thinking about things like sustainability and scale while producing really evocative scents—as well as some related products that are equally lovely. She works with Michael Ruh on the handblown glass bottles and glasses she uses for perfumes and candles. (For those of you in the UK, the shop offers a refill service on the candles, cutting the subsequent cost of them in half.) This is a real splurge, but also one of the things that makes me really happy. The Frankincense candle is hands-down the all-time best holiday scent. 
At the beginning of all of this, I imagined writing letters to people. Ha! But I am still so happy I bought this stationery from Polk Paper in collaboration with Avery Williamson.
I know that I wrote about Klay last year, but I love them so much I am including them again here. They make the most beautiful cushions (is the surest sign of my middle-age my purchasing of fancy pillows?) that are exquisitely made. They have recently started selling a small selection of carefully chosen things through their website, as a complement to the cushions. I just think this is a really great company and I can't wait to visit Aukland and hang out with them (hint-hint, Kirsty and Hannah!). As someone who favors neutrals in decorating, they have been a safe way to inject some color into our lives.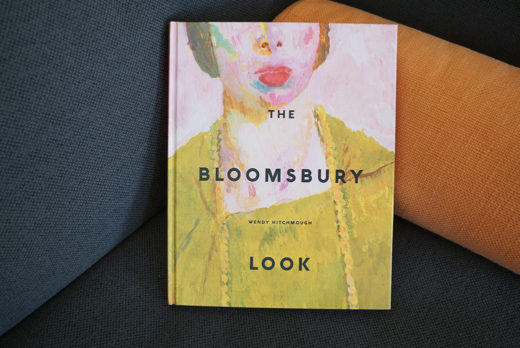 This is kind of niche, but for those of you who might also be into Bloomsbury (I said it was niche!) I've really been enjoying The Bloomsbury Look by Wendy Hitchmough, former curator at Charleston. It chronicles the group's (Vanessa Bell, Duncan Grant, Virginia Woolf, et al) influence and relationship to fashion, furniture, and, in contemporary terms, lifestyle. It's a beautiful book.
I learned about this glassware from my friend Julia Bainbridge (who wrote the really lovely Good Drinks and is an all-around good egg). The glasses are the most delicate and satisfyingly irregular ones that I own. They turn any drink into a treat.
This is more of a recommendation for a shop, rather than a particular item. I got this copy of an essay titled "Composition as Explanation" by Gertrude Stein published by Virginia and Leonard Woolf's Hogarth Press from The Second Shelf in London. It is a tiny bookshop tucked away in a charming alley (steps away from the uncharming Piccadilly Circus) that specializes in rare books by women. Really good people doing good work. It is imperative we keep small bookstores alive.
I have a coat and jacket problem. I have too many of them (or just enough depending on how you look at it)—is my coat closet half empty or half full? Bryan would argue it is just full and I need to stop buying coats. Fair enough. But this fall I love wearing this work jacket from the perfectly named Work Shy. Each jacket is handmade and hand-dyed in Cardiff by designer Demi Amber, making this some seriously slow fashion. They're beautifully made and a joy to wear.
What a weird year in our kitchens. To be honest, I am mostly sick of cooking and, for much of the year, derived no pleasure from it. Occasionally though I still like a good baking project and so the books that stood out to me this year were: 
Baking at the 20th Century Cafe by Michelle Polzine (with the wonderful Jessica Battilana): If one book summarized the kind of sweets I love, it would be this book from the beloved cafe in San Francisco—yeasted coffee cakes, plum filled-cookies, and of course their famous Russian Honey Cake. 
A Good Bake by Melissa Weller (with the super talented Carolynn Carreño!): Melissa has gotten me geared up to take on baking challenges again. Also, her rugelach dough is absolute perfection.
100 Cookies by Sarah Kieffer: This is just a really solid collection of cookie recipes that are all relatively simple, well tested, and totally enjoyable. The Cinnamon Roll Blondies (?!) are a real highlight as well as the Neapolitan Cookies. 
We have searched for years for LED string lightbulbs that look like the old school kind. We finally found them through, of all places, an Instagram ad. They're even made of glass and honestly indistinguishable from the old incandescent bulbs. Rejoice! This has really made my holiday season.
Postcard Teas sells tea exclusively from small farms (less than 15 acres), and were the first tea sellers in the world to list the provenance for all of their teas. And it is beautiful tea. A favorite of mine is this wonderfully aromatic (thanks in part to little insects that nibble the leaves) Miaoli Oolong from a 7-acre farm in Northern Taiwan.
I have my friend Helen to thank for bringing Sarah Caudwell into my life, and I will be forever grateful. Caudwell was a pipe-smoking barrister who wrote four incredible mystery novels. Set among a group of hot and ridiculous young barristers whose reluctant crime-solving pursuits often get in the way of their prodigious drinking and sex lives. The books all center around tax laws and other legal conundrums and feature a narrator, Hilary Tamar, whose gender is never revealed. These are four of my favorite books ever. They fall somewhere between a golden age detective novel and a cheeky 80s TV show like Remington Steel or Moonlighting. I. Am. Obsessed. 
I love the work of Charlotte McLeish and am so glad to have this little vase. She mostly makes ceramics with historical references, but also has a beautiful line of jewelry. Lovely things.
Lao Peng You is one of the best restaurants in Chicago and their chili oil is so good. They sold out of the batch they created for their anniversary, but I am hoping they make some more for the holidays. Would make a spicy gift.
I struggled for too long with a trigger-loaded ice cream scoop that always froze up after a scoop or two. Glad to have transitioned to this classic ice cream parlor staple that steals some warmth from your hand to cut through the most stubborn pint.
I love fancy cheese but sometimes struggle to keep it fresh(—is a sentence I wish I hadn't written). These cheese storage bags have been a life-saver (cheese-saver?). They seem to keep things fresher and better hydrated that plastic wrap. Highly recommend. 
Someday it will be summer again, and maybe even a summer when we can be around people and do normal things. I'll be wearing these sandals from Steve Mono.
One of the few pleasures of our year was early morning swims in Lake Michigan. And for my money, one of the best beach snacks (other than a can of Pringles) is a bag of Haribo Twin Snakes. One sweet, one sour, great colors. Perfection. Stuff that stocking.
Of course I am ending this guide with hand sanitizer, because what a fucking depressing year it has been. But as we continue to try to make the most of things, this stuff smells amazing. Like a fancy cocktail.
***
Some more treats for yourself, that don't cost anything:
Lottie + Doof Christmas Playlist. I really genuinely love Christmas music. This is my ever-evolving playlist of favorites. Play on shuffle for a good time.
Griefcast episode featuring Monty Don. I love Monty Don (Gardeners' World! Big Dreams, Small Spaces!) and had the biggest cry of the year while listening to him on this podcast talk about grief. For when you need a good cry. 
Alicia Kennedy Newsletter. Alicia Kennedy's newsletter is one of the few things I consistently enjoy reading. There is a free version, but I hope you'll subscribe. Alicia is one of the most interesting voices in food and culture writing.
Modern House. One of my safe places is looking at the properties featured on this site. British housing aspirational nonsense in the best way.
Siblings or Dating. The best thing on Instagram right now.
***
Writing a gift guide in 2020 is a challenge. I've tried to focus on businesses I love and support and that seem to have relatively ethical business practices (I obviously failed hard on a couple of picks). It means, generally, that things will cost more. My privilege during these troubling times is not lost on me, it never is. 
Finally, I miss you all. I haven't felt up to posting on this site this year. But I promise I do not plan on abandoning it entirely. I will pop in from time to time and we'll see where it goes. In the meantime, I do share things I have been cooking and baking on Instagram (though you have to also deal with pictures of flowers and kids).
I hope everyone has as good a holiday as possible given the circumstances. Find pleasure and hope where you can and take care of each other. Love to you all.