I am so pleased to have Amelia Morris from Bon Appétempt as my first guest for this round of the 12 Days of Cookies.
Since the first time I clicked over to her blog, I knew she was something special. Amelia is a talented writer, recipe curator, performer (!!!) and cook. But more important than any of that, she makes me laugh—something that is often missing from food sites. She has created one of the most enjoyable, refreshing blogs out there and I look forward to every post. I'm so inspired by Amelia and Bon Appétempt. She reminds us that we need to make sure we have fun with these little corners of the internet that we rule. The ability to do anything we want with our sites should not be taken for granted. So let's make some Evergreen Shortbread!
By adding some Douglas Fir tea to a shortbread cookie, Amelia creates something much more magical. A drop or two of green food coloring (which she says is optional, but I think is mandatory) makes these outrageous and fun. Below, Amelia shares the recipe and her answers to my questionnaire.
Thanks, Amelia! Thanks, too, to Matt—Amelia's husband/photographer/partner-in-crime for these great images.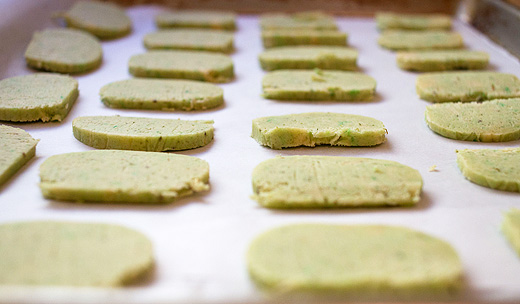 LOTTIE + DOOF FOOD QUIZ by Amelia Morris
Why this cookie?
Because it's pretty simple yet will still stand out at your office's annual holiday cookie swap. (I don't know, my mom's office does this every year.) Plus, since it's shortbread, the focus is on the butter, not the sugar, so it can almost be refreshing in a month where the sweets overfloweth. Also, they're green.
Sweet or salty?
Sweet. No, wait. Salty!
Chocolate or vanilla?
Vanilla…with chocolate cookies crumbled on top.
Hot or mild?
Hot! (But I'm sure you already knew that.)
What won't you eat?
Liver. I've tried—twice. It's just not my kind of organ meat.
Most memorable meal?
I love this question. For our honeymoon, about six months after our wedding, my husband and I went to San Francisco. It was before I started Bon Appétempt, and so, while we loved food, we weren't filled with as many recommendations and expectations. We wandered the city and chose where to eat somewhat randomly. On our first night there, we ate at some tapas restaurant (Sadly, I can't remember the name of the place.) I mostly remember that one of the small plates we ordered were bacalao croquettes, and that somewhere in the middle of the meal, after what must have been my second or third glass of wine, I was so happy, I cried.
Favorite object in your kitchen?
My little hand-painted, hot pink Oaxacan skull with a spider on top of its head that my friend Mary Anne got for me while she was in Mexico. She sent it to me via mail, and when I opened the box, I had no idea what it was or if it had a purpose…still don't. So, it just sits on my kitchen windowsill in all of its creepy glory and makes me smile when I catch a glimpse of it.
What are you scared of in the kitchen?
So many things. Slicing my fingers, grating my fingers, accidentally turning on the food processor or blender while my fingers are in there, hot oil splashes, leaving the oven on and then going on a weeklong vacation, turning an ankle, et cetera.
Do you prefer to cook alone or with others?
Alone! Cooking with friends can make for a fun afternoon, but in general, I'm a world-class micromanager, and no one wants to be micromanaged in the kitchen. So alone with music is almost always my preference, or in the words of my husband, "I have my headphones on so I can't hear anything if you tell me to do something."
What country would you like to travel to for the food?
Sweden. Really, really want to go, but can't afford that place…yet! Matt and I are in love with their culture and feel like it would be one of those places where you could go and not run into anything remotely resembling your regular life.
If you were a fruit or vegetable, what would you be?
Probably a potato because my mom loves them so much.
Favorite thing about winter?
My friends have a baby daughter named Winter, and I love how easily bribed she is with stuffed animals. On the off chance that you were referring to the season, I would have to say switching the bedding to flannel sheets and a down comforter. In a word: cozy.
Evergreen Shortbread Cookies (adapted from Organic & Chic by Sarah Magid)
Makes about 2 dozen cookies
2 cups all-purpose flour
1/2 teaspoon salt
2 sticks (1 cup) unsalted butter, softened
1/2 cup granulated sugar
1 packet of Douglas Fir Spring Tips tea*
Green food dye (optional)
*The company Juniper Ridge carries this kind of tea and it's delicious—lemony with just enough Douglas Fir aroma to subtly remind you that it's wintertime. If you can't find Douglas Fir tea, you could substitute with Earl Grey or any other tea blend you like.
Whisk together the flour and salt in a bowl. Beat the butter and sugar together with an electric mixer at medium speed until it's pale and fluffy, about five minutes. Then, at a speed low enough that you won't create a giant flour cloud, slowly add the flour/salt mixture to the butter and sugar. Just before it's completely blended, add the loose tea from its packet/tea bag. If you're feeling festive, add a few drops of green food dye. (I have this gel kind of dye, and for a light green color, I only need two drops.) Continue mixing until well blended.
I like to slice these cookies into nice little ovals. In order to do this, lay plastic wrap on your work surface and place the dough on top. Shape the dough into a log, and then wrap it up well. Once it's wrapped, you can shape it a bit more before chilling it in the refrigerator for at least thirty minutes.
Towards the end of the thirty minutes, preheat the oven to 375°F. Line two baking sheets with parchment paper. Unwrap the dough and cut the log into 1/4-inch-thick slices and arrange them about 1 1/2 inches apart from one another. Place the baking sheets in the freezer for five minutes.
Bake sheets one at a time until golden, 18-20 minutes. Remove the baking sheets from the oven and let the shortbread chill out for a few minutes before transferring to a wire rack to cool completely.
Enjoy on a cold afternoon!
****************
Previously, on THE 12 DAYS OF COOKIES
Day 1: Maple Pecan Cookies
Day 2: Fig and Date Swirls
****************